Getting Artsy at the Adah Rose Gallery
A Glimpse into our Local Art Spot
By Real Estate Professional and Neighborhood Expert Dina Paxenos

I love spotlighting local businesses. We have so much to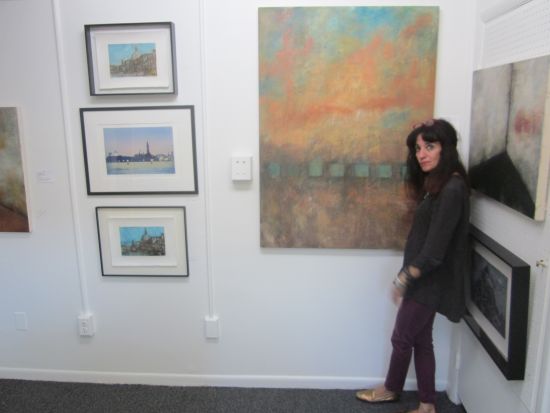 offer right here in our own neighborhoods and market areas. Clever, creative, and community conscious business owners are some of my favorite people to work with – and they have SO much to share for all of us. This week, I wanted to introduce you to my friend and local art gallery owner Adah Rose. She's smart, dynamic, and I know you'll love learning about her local treasure of a business.

Q: Adah, can you tell our readers a little about yourself and your gallery?

A: I founded the gallery in 2011 in Kensington MD, a small town just outside Washington DC. I have volunteered in Kensington for many years and was inspired to open the gallery by an artist: Kaltoum Maroufi, who had her studio there. I have loved art all my life. I grew up in Europe and Hawaii and both my parents took us to museums, galleries, and gave us art lessons. I have no artistic talent but love both the intellectual engagement with art and the aesthetic.

Q: What makes your gallery unique in your market area?

A: I am a small gallery with a very diverse group of artists: abstract, figurative, sculpture, painting and photography. I believe all galleries are unique, and we are all working hard to promote art in our communities. There are so many wonderful practicing artists today and we can all only show a small part of that talent. I modeled the gallery after bookstores, a place where people can come and browse and hopefully talk about art.

Q: You're very involved in the communities – can you tell us a little more about that and why you are so passionate about it?

A: I am involved in the community in many ways both within the gallery and outside of it. I hope the gallery brings in all types of people. We have gallery talks, music concerts, openings, and we do pop-ups throughout the city. I also travel to art fairs to showcase art, we have had an amazing group of interns who help in the gallery, and I try and participate in outside jurying and panels.

Q: Do you have any upcoming events that our readers might find exciting?

A: We have an opening coming up on January 20th of an amazing sculptor; Jessica Drenk. Jessica uses ordinary man-made materials and transforms them back to nature. Some of her materials include books, PVC pipes, pencils, Q-tips, cotton pads, and now marble. She creates sculptures that comment on the ephemeral nature of beauty, on environmental factors, and on the importance of books and knowledge. We will also have another artist talk in January, but the date is yet to be decided.

A: Spotlighting local businesses is a passion for Dina — much like you spotlight emerging artists, can you share your thoughts on that?

A: I so appreciate someone like you Dina who is committed to our local community and on promoting creativity. I hope that the gallery is a very welcoming place for both visitors and artists. We have people visit who know a great deal about art and art history and those that know very little. I am always delighted when anyone visits and comments on the art. I try and pass those comments on to the artists we show. There is so much talent in the world and I hope I am able to show just a slice of that emerging talent. We also try and have art at many price points for people who love art, no matter their budget.

Q: How can people best get to know what your gallery has to offer?

A: People can best get to know the gallery by visiting. They are always welcome, and we love when they come to our openings which are so much fun. We always have live music. The gallery also has a website to view art and we are on a marvelous website called Artsy.net. Visit our site at http://www.adahrosegallery.com/ to learn more about us and get our address, then come visit in person! We'd love to show you around!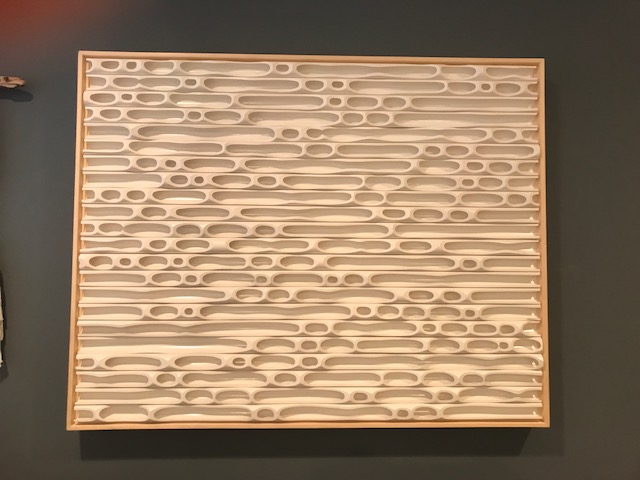 Thank you so much, Adah for taking a few minutes to share with us! Above you can see a piece that I got myself from your gallery by Jessica Drenk! We can't wait to get back to the gallery and see what's new. And as always, if there is anything I can do for you as your Neighborhood Real Estate Specialist, I hope you'll contact me right away. I am always just a call away to help. Happy holidays to all!